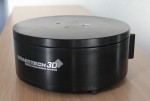 Rotary tables
Rotary tables greatly accelerate and automate the 3D scanning process.
Thanks to a special module, the head control software automatically
processes the data from the scan creating a 3D model.

- small load up to 15 kg
- average load up to 60 kg
- high load up to 120 kg
Mobile workstation
specially dedicated laptop that can meet the requirements of the software
for controlling the measuring head.

The workstation is available in two versions:
Standard - provides the computing power needed to operate the 3D scanner
and complex operations.
Professional - huge efficiency that allows working with a cloud
with up to 300 million points.

Integrated shadowless illumination system composed of:
- lamps
- tripods
- softboxes for transport
- software for controlling lamps during measurement

Tripod
Specialist tripod equipped with a gimbal mounting head.
The tripod ensures comfort and mobility of the system
while maintaining stability and security.
Column stand
Suitable for tasks requiring setting the 3D scanner at a higher altitude
or obtaining an even more stable position.
It is not only convenient and mobile, but also guarantees complete safety.